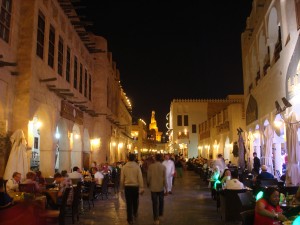 Besides being a shopping paradise for tourists and locals, it is also home to dozens of restaurants serving all kinds of cuisines, together with Shisha lounges.  No matter you are tourists who stay in Qatar a few days to someone who has a few hours during transit, pop in to the souq to have a drink or a meal. Sit by the road to absorb the atmosphere of the souq. You won't be disappointed.
Qatari Cuisine
Al Tawash – You are in Qatar. You've got to try Qatari cuisine. Al Tawash serves traditional Qatari food, including shisha. Ask the friendly waiters for recommendations if you have no idea what to order. Both indoor seating and Bedouin tent are available.
Mediterranean cuisine
Le Gourmet Restaurant – quality Mediterranean food and international cuisine. Perfect for group with different preferences.  Good seating (indoor, outdoor and rooftop). Shisha is served too.
Yemeni Cuisine
Al Bandar Aden Restaurant – It serves traditional and authentic Yemeni food like mandhi, ogdat, including fahsa and salta. Yemeni bread is fresh with crispy outside and soft and chewy inside.
General review online for it is: excellent food, fast and friendly service at a reasonable price, though it can be crowded and have to wait to be seated.
Opening Hours: 8am – 11pm, Friday 12:30pm – 11pm  (Website)
Iraqi Cuisine
Al Adhamiyah Iraqi restaurant – Excellent Iraqi food including big starter selection, lamb tikka and Maskoof. Reasonable price with table on the street – perfect for people watching.
Syrian Cuisine
Damasca – Damasca is one of the biggest restaurants in Souq Waqif.  It has 2 floors including a roof terrace. Indoor is perfect for hot day while in the evening the outdoor roof terrace is a better choice. There are TVs for sport and live bands and dancers provide various entertainment in the evening.
There is a mix review online about the services – most people are happy while some have experienced indifferent waiters. Some people also find it pricey but food is generally good.  (Website)
Indian Cuisine:
Royal Tandoor – it specializes in the old Awadhi cuisine, and the decoration is superb too.