Museum of Islamic Art (MIA)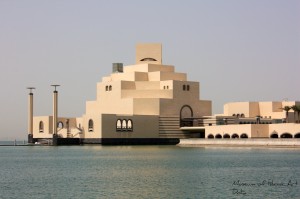 Within walking distance to the souq, next to the Corniche Promenade, the Museum of Islamic Art is well worth visiting.  Every Thursday and Saturday starting 2 p.m., you may join their highlight guided tour for free if you are in a hurry. The tour takes 40 minutes.  The museum features glass, metalwork, fabric, ceramics and manuscripts from ancient to modern times. You also have a choice of a quick bite in the museum cafe or fine dining at the IDAM Restaurant with their alcohol-free menu designed by the Michelin 3-star chef Alain Ducasse.
Opening hours:
Sunday 10:30am to 5:30pm
Monday 10:30am to 5:30pm
Tuesday Closed
Wednesday 10:30 am to 5:30 pm
Thursday 12 pm to 8 pm
Friday 2 pm to 8 pm
Saturday 12 pm to 8 pm
Please check the MIA official site for the latest events and Ramadan arrangements.
The Corniche Promenade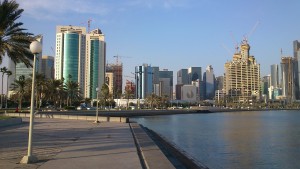 The Corniche Promenade or Doha Corniche is a 7km long boulevard lined with palms and greens together with modern architecture along the seafront. Al Corniche Street, parallel to the Doha Corniche, join the Hamad International Airport to the West Bay new business district.  This promenade is loved by joggers and anyone who enjoy a pleasant walk along the sea. Monuments like The Pearl, landmarks like the Qatar National Theatre and Museum of Islamic Art, modern skyscrapers, parks and playgrounds can be all found along here. Don't forget to take an evening boat trip to enjoy the wonderful skyline of Doha.
Gold Souk
Gold Souq, is a souk that is full of gold, pearl and jewellery.  Completed in 2012, the new Gold Souq follows the traditional Qatari architectural design, the two-storey building provides premises to over 40 jewellers. A must-see no matter if you love golden jewellery or not.
Katara Cultural Village
Located next to the Katara Beach, Katara is a unique cultural place rich with many art displays events. It functions as a city hall that hosts different cultural events and art festivals, both free and paid. Completed in 2008, the beautiful Katara Amphitheater is a must-see. It combines both classic Greek theatre ideas and Islamic features under the blue sky of Qatar. The Katara beach and cafes are also great choices for relaxing too.
Qatar National Museum
The Fariq Al Salatah Palace, formerly the Museum of Heritage, is now surrounded by a new and modern structure to form the current Qatar National Museum. Award winning architecture Jean Nouvel was hired to design a brand new face for it. Travellers s who arrive from the airport may be puzzled by this big ring of interlocking discs pavilions occupying over 1 million square feet of space, not knowing that it houses both the history and modern life of Qatar. Those who are interested in the traditional dhows (vessels with one or more masts and lateen sails that are used in the Arabian region) should not miss this museum too.
The museum may go through renovation sometimes so do check out their schedule.